If you are looking for things to do in Winston Salem, then what better way than by taking advice from a local?!
Winston-Salem is a great place to live as it has a ton of big city amenities without the crazy crowds and traffic. Because of its location, Winston allows for quick day trips to the mountains or a weekend beach getaway. Winston-Salem has something to offer for everyone, no matter your age or fitness level!
Best Things To Do In Winston Salem
1. Old Salem Museum & Gardens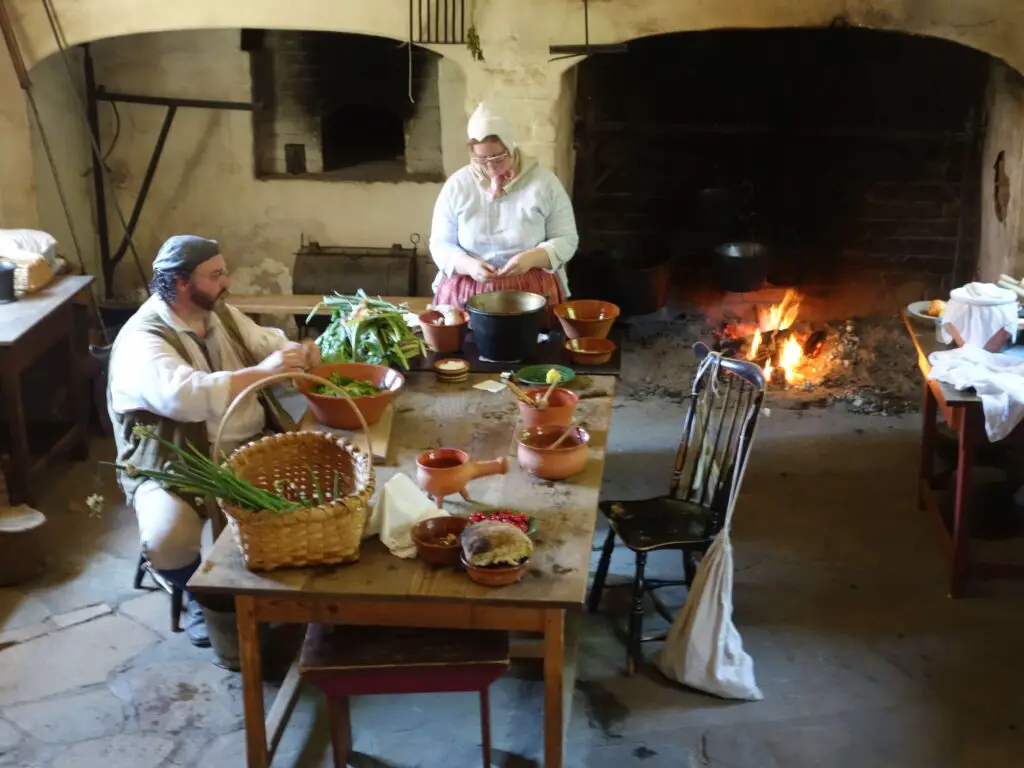 Old Salem was a town that was settled by the Moravian community in 1766. Old Salem acts as a living history museum as living-history interpreters practice the trades of tinsmiths, gunsmiths, bakers, and carpenters as people visit the town. In addition to the reenactments, there are 20 historic buildings to explore, making this a unique and must-do activity in Winston-Salem.
During your visit to the Moravian settlement, you will get to see how bakers made bread, how potters shaped clay, and how shoes were made. Lastly, don't forget to take a stroll through the beautiful gardens during your visit!
Cost
Pet Friendly
$
No
Walking only: Yes
2. Visit The Reynolda House
The Reynolda House was originally home to R.J Reynolds, the founder of R.J. Reynolds Tobacco Company. Built in 1917, the house is now a public Museum of American Art that features some exquisite art masterpieces. When visiting the Reynolda House, you get the chance to experience the life of the wealthy in the 1920's.
The Reynolda House is more than just art. The house remains decorated as it was when the Reynolds were residents. Rooms throughout the home feature a bowling alley and an indoor pool. Make sure to see the elaborate gardens when walking the 170-acre estate!
For free museum admission guidelines, check here!
Pro Tip: Check with the local public library. Sometimes you can get free ticket admission through them!
| Cost | Pet Friendly |
| --- | --- |
| Free – $ | No |
3. Walk Around Historic West End
The West End Historic District area of town was designed in 1890 as a "streetcar suburb." It continues to feel the same way as it did back then, full of charm and architectural gems. Architectural styles range from Queen Anne to Neo-Classical Revival to Colonial Revival to Craftsman styles.
Located on Burke Street, The SNOB shop is a popular consignment store and shopping destination when in West End.
4. Shop on Trade Street
Head to Trade Street to explore all the boutiques and charming specialty shops. There are several snack shops and cafés that line the street and make for a great afternoon out. I must warn you – parking can be difficult depending on the day and time of day you go. So plan accordingly!
Some popular destinations on Trade Street include Kindred Spirits for holistic supplies and The Mast General Store for a variety of outdoor gear.
| Cost | Pet Friendly |
| --- | --- |
| Free – $ | No |
5. Eat Some BBQ
As the saying goes – "When in Rome, do as the Romans do." North Carolina is known for their BBQ. In fact, one of the largest festivals in the United States occurs 30 minutes away in Lexington, NC each fall: The Lexington Barbecue Festival.
To get you started on your BBQ journey, we've got you covered:
| Cost | Pet Friendly |
| --- | --- |
| $-$$ | Depends on outdoor seating |
6. Historic Bethabara Park
Bethabara Park is a charming and historic place to visit. Bethabara Park was a Moravian Settlement that was started in 1753 prior to the community's permanent relocation to Old Salem.
What remains are beautiful walking trails around the 183-acre property, great places to spot wildlife, and preserved historic buildings. On the first Saturday of fall, Bethabara Park hosts the annual apple festival that invites the community to experience a piece of their history and culture.
7. Quarry Park
Another fun thing to do in Winston Salem is to visit this Quarry Park. Relax at this nature-filled wonder in Winston-Salem. This quarry offers some inspiring views of both the city skyline and the water-filled quarry below. Functional from 1920 to the 1970s, the quarry slowly filled with water after it was no longer in use.
When visiting Quarry Park, there is a long pier that extends above the quarry for a spectacular view. If you don't feel like climbing up to the pier, there are other walking paths you can enjoy.
Bonus: Pet-friendly! Take your dog with you, just make sure you keep em' on a leash!
8. Step Back in Time at Mast General Store
Visiting the Mast General Store is another fun thing to do in Winston Salem, especially on rainy days or if limited on time. A trip into this shop will take you back in time and walk you down memory lane.
In traditional fashion, they sell a little bit of everything. From home goods, outdoor gear, footwear, old-fashioned toys, books, and more than 500 varieties of old-fashioned candy, the Mast General Store has something to interest anyone who enters. They have multiple locations!
Cost
Pet Friendly
Depends
Are you going to buy some goodies?
No
9. Photograph the Shell Station
This is the last standing clamshell station in the United States. In the 1930s, there were originally eight of these shell stations built; however, over time the other shell stations did not last with the changing times.
The remaining shell station in Winston-Salem was restored in the late 1990s by the Preservation North Carolina historic society and today remains a historic landmark just north of Interstate 40.
| Cost | Pet Friendly |
| --- | --- |
| Free | Yes (To Drive By) |
10. Walk the Art Trail
The Art Trail is a self-guided walking tour of murals and public art through the downtown Winston-Salem arts district. Winston-Salem is home to the famous Art-O-Mat, a machine that is revolutionizing art. What the heck is the Art-O-Mat? It is an upcycled old cigarette vending machine that now spits out a piece of artwork about the size of a cigarette box. Be on the lookout for these machines as you walk the art trail. You may spot an Art-O-Mat machine at Krankie's, a/perture Cinema, or Wise Man Brewing.
As you enjoy a beautiful walk through downtown Winston, enjoy everything this city has to offer. Known as the City of Arts, be prepared to see mixed media from graffiti, vintage signs, murals, pop art, and more. Art is a form of expression and a way to connect with people.
11. Check Out the Coffee Pot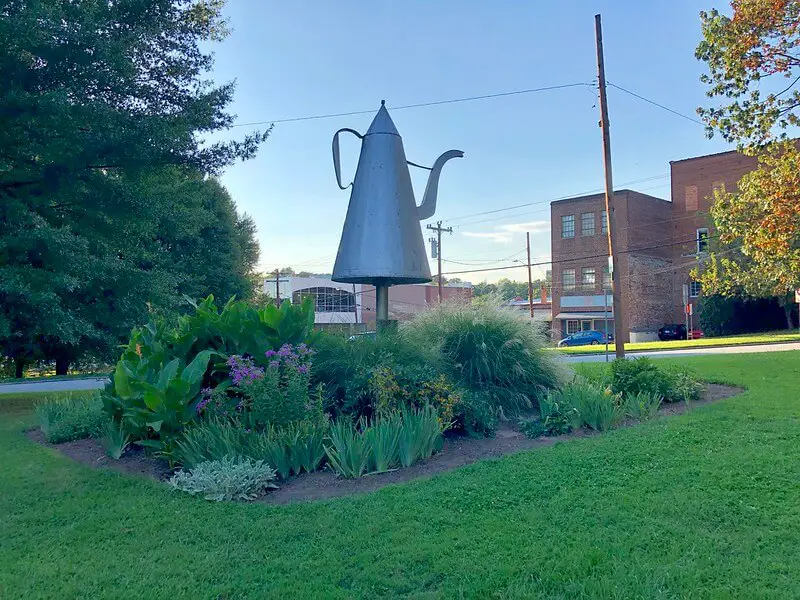 An iconic display of cultural heritage, a visit to Winston-Salem would not be complete without a stop at this roadside attraction. Standing over 7 feet tall, it is hard to miss this piece of art. This metal coffee pot was constructed by two Moravian brothers in 1858, making it one of the oldest sights in the city.
This massive landmark is very mysterious and filled with folklore. It was once used to promote a local tin shop, grabbing public attention. It has been said that it can hold up to 11,840 cups of coffee! Now if they ever filled it with coffee, we may never know.
12. Visit a Brewery
One of the best things to do in Winston Salem is to hit up a brewery, enjoy a beer, and take in the different atmospheres. There are a multitude of microbreweries in the area to explore!
Foothills Brewery: This is the most popular and well-known brewery in Winston-Salem. They have made a name for themselves by making high-quality beverages. They recently expanded to a second location that allows them room to host events and festivals.
Incendiary Brewery: I love the industrial atmosphere of Incendiary. It's also located near the Black Mountain Chocolate Factory and Cugino Forno Pizzeria!
Fiddlin' Fish Brewery: Opened in August 2017, Fiddlin' Fish is a family-owned business that is located in the Downtown Arts Districts. In addition to their craft beers, you can get involved in their run or ride club.
13.Check Out Bailey Park
Located in the Innovation Quarter, Bailey Park is 1.6 acres of public green space. They often host concerts, food trucks, festivities and other free events for the community. Even if there are no festivities occurring, it is a great place to go exploring, have a picnic, and have a relaxing afternoon.
Check out their events calendar for outdoor movie nights on the lawn and for free yoga!
14. Enjoy a Visit to Tanglewood Park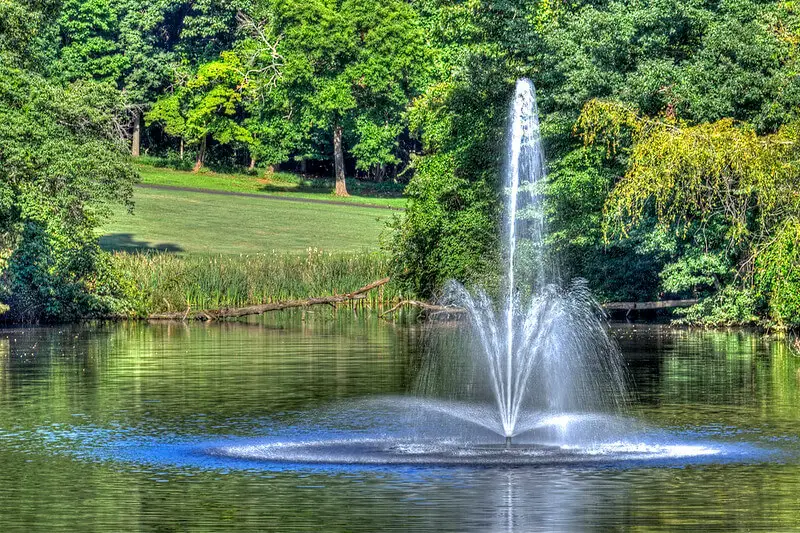 Located just 15 minutes from downtown Winston-Salem is Tanglewood Park. Josh and I frequently visit Tanglewood and enjoy all of the amenities that the park has to offer. Situated on 1,200 acres, Tanglewood Park offers walking trails, 2 golf courses, public swimming pool, paddle boats, Softgolf, a dog park, a BMX racing track, an RV park, tennis courts, bike trails, and more.
For a $2 entry fee for personal vehicles, you can ride through the park at your own leisure. Additional fees may be required to participate in other amenities and/or attractions.
If you are visiting during Christmas, be sure to check out the Tanglewood Festival of Lights Display! Just be sure to get in line early!
| Cost | Pet Friendly |
| --- | --- |
| Free – $ | YES |
15. Black Mountain Chocolate Factory Tour
The Black Mountain Chocolate Factory offers a virtual tour whenever the store is open. This is a great opportunity for families looking for something to do at their own pace. The virtual tour features a multimedia presentation on the making of chocolate. This can be accessed via QR codes on the factory window with the presentation displayed on your smartphone.
Following the self-guided tour, enter the chocolate factory and indulge in some yummy treats! I fell in love with the S'mores Tart!
| Cost | Pet Friendly |
| --- | --- |
| Free – $$ | No |
16. Enjoy Live Music at ROAR
Have you ever wondered what life was like in the "roaring" 1920s? Named after this era, ROAR was established in 2021 as a hip place to hang out in downtown Winston Salem. ROAR offers 4 levels of entertainment that includes a food hall, bowling alleys, golf simulators, a theater, and a roof top lounge.
The food hall offers an abundance of options, from casual to fine dining. If you plan on bowling or utilizing the golf simulators, make sure you book a lane and make a reservation ahead of time!
| Cost | Pet Friendly |
| --- | --- |
| Free – $$$ | No |
17. The Southeastern Center of Contemporary Art
The Southeastern Center of Contemporary Art (SECCA) opened in 1956 to showcase local artists' works. They now display mixed media from around the world. There will always be something new when you visit SECCA.
SECCA continues to serve the community and has expanded since its original opening in 1956. In addition to artwork displays, SECCA also hosts talks, films, and visual productions.
18. Take a Walk by Salem Lake
It may not be Lake Norman, but Salem Lake is a popular place to walk and enjoy surrounding nature. Over a 365-acre area, Salem Lake offers seven miles of trails and plenty of fishing. The paths are easy to navigate and fishing is a favorite for many locals. There are also plenty of boating opportunities on the water to enjoy.
If you plan on fishing, make sure you have a North Carolina State Fishing License.
19. Marvel at Architectural Wonders at Korner's Folly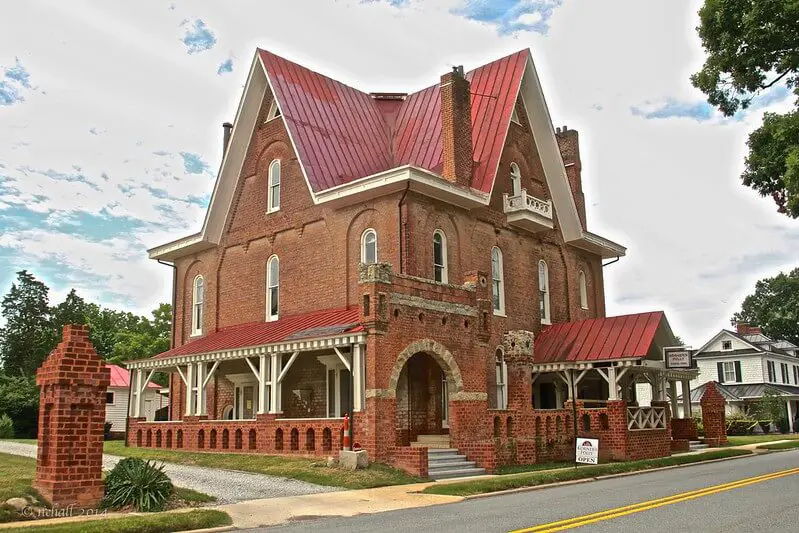 Korner's Folly is a quirky 22-room building that was the result of artist and designer Jule Gilmer Korner. Built in 1880, the house was intended to be used to showcase home decor options to interior design clients. While it may not appear like much on the outside, the inside is much more exciting and unique.
When you step inside Korner's Folly, you will witness the unique design. Inside you will find 15 different fireplaces, ceiling heights that vary from 5.5 to 25 feet, trap doors, and no doorway or window is the same. There seriously is no other home like it.
20. See Winston Salem with Triad ECO Adventures  
One of the most unique things to do in Winston Salem is taking a tour by Triad ECO Adventures. They offer some great sightseeing options that make learning the history and culture of the city fun and exciting. Don't feel like you have to be a visitor to participate in a tour. Even as a local, I feel like there is always something new that can be learned.
Triad ECO Adventures provides sightseeing tours via Segway, e-bikes, trolley, and stand-up paddle boarding. No matter what your athletic ability is, there is something that can accommodate all fitness levels.
21. Drink Wine With Llamas
Divine Llama Vineyards is such a unique experience that is located 30 minutes outside of Winston-Salem, NC. Located in rural East Bend, NC, Divine Llama Vineyards offers beautiful mountain views, quiet fields, and delicious wine. 
A llama farm and llama trekking experience make this vineyard a unique getaway. 
22. Enjoy a Tour or Meal at Childress Vineyards
Located 25 minutes away in Lexington, NC, Childress Vineyards is the "wine estate" of former NASCAR driver Richard Childress. This is a lovely place to go and enjoy an afternoon.
I must confess, I'm not a wine drinker; however, I still enjoy a trip to Childress. Not only do they offer vineyard tours and wine tastings, but they also have a bistro on site with delicious food. If you plan on going for lunch or Sunday brunch, I recommend making reservations ahead of time.
23. Take the Kids To Kaleideum
Kaleideum is an interactive science center and museum in Winston-Salem that is focused on hands-on learning. Kaleideum was established in 2016 after the merger of The Children's Museum of Winston-Salem and SciWorks. Not only is Kaleideum a place for kids, but adults will also enjoy the never-ending exploration, constant change, and learning opportunities available.
Exhibits are always changing at Kaleideum. There is a planetarium where live sky tours and laser shows occur. Kaleideum also offer various camps throughout the year for kids to continue exploring nature and their surroundings.
24. Find a Book at McKay's
Whether or not you love reading, McKay's (previously called Edward McKay) is a unique place to stop in and visit. It is a used book store that sells so many good finds. Not only can you find books, but they also sell loved music, movies, video games, board games, and more!
In 2020, the Winston-Salem store moved and expanded to a larger building. This is an even bigger reason to visit their new and improved location!
25. Bowman Gray Stadium Racing
Bowman Gray Stadium is the longest continuously operated NASCAR-sanctioned track in the country! The fact that it's right here in Winston Salem is cRaZy to me. The first NASCAR race took place at Bowman Gray Stadium on May 18, 1949. Bowman Gray has continued their weekly racing tradition to this very day. Even if you are not a NASCAR fan (which I am not), you have to go at least once – just for the experience!
Pro Tip: I recommend taking some sort of ear protection. It gets very loud and you don't want to hear ringing in your ears for days later!
26. Day trip to Blowing Rock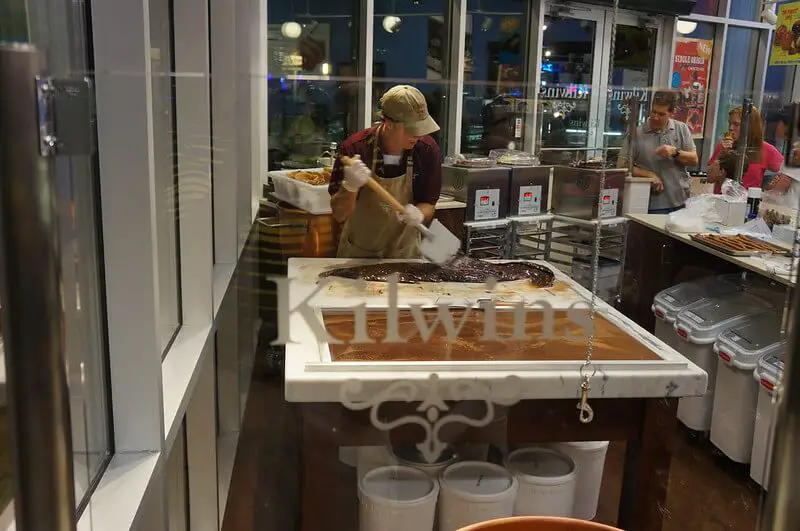 Blowing Rock is such an adorable mountain town and is less than a 2-hour drive. I feel like there is something for everyone in Blowing Rock. There are numerous hiking trails, quaint shops, award-winning restaurants, and plenty of outdoor adventure opportunities.
Make sure you stop at Kilwin's Chocolates in Downtown Blowing Rock. You can smell the deliciousness from the street. Their toasted coconut ice cream is my favorite!
A quick 15 minutes away is the city of Boone, NC. Not only is Boone home to Appalachian State University, but it also has a cute main street. Make sure you hit up Dan'l Boone Inn for some family-style dining!
| Cost | Pet Friendly |
| --- | --- |
| Free – $$ | Yes |
27. Go Hiking at Hanging Rock
There are a few really good places to hike near Winston-Salem. Hanging Rock is one of my favorites because of the views and it is less than an hour's drive! I call this a win-win. What do you think?
There are numerous trails available with some leading to waterfalls, rock outcrops, a mountain cave, and gorgeous mountain views. If you go doing the summer and are looking for the perfect swimming hole, check out Lower Cascade Falls. We took our water-loving Golden Retriever and he definitely approved!
28. Day Trip to Mt. Airy
If you ever watched the Andy Griffith show growing up, you're probably familiar with the town of Mt. Airy. Less than a 1-hour drive from Winston Salem, Mt. Airy is a fun place to go for the day. Due to its popularity that stemmed from Andy Griffith, Mt. Airy is a historic town that has some exciting Mayberry landmarks.
Plan a visit to Mt. Airy and splurge on one of the unique tours that will take you down memory lane. Mt. Airy offers squad car tours, trolley tours, and walking tours.
| Cost | Pet Friendly |
| --- | --- |
| Free – $$ | Depends |
29. Tailgate at a Wake Forest Football Game
What is more fun than football? Some people don't know of anything they love better. When tailgating at Truist Field, Wake Forest ensures a fun experience. They have a DEACTOWN Fan Zone which will have food trucks, live bands, and a beer garden. Kids will be greeted by inflatables, face painting, and balloon artists. Even if you don't love football, I think you can find something to enjoy!
30. Enjoy a Movie at A/perture Cinema
A smaller theater with a lot to offer, A/perture Cinema is located in downtown Winston-Salem. A/perture Cinema doesn't have your traditional concession stand, but also offers beer and wine to moviegoers. It boasts 4.5 movie screens with a diverse selection of movies annually.
If you are looking for a relaxing and romantic date night, check out A/perture Cinema. It's the only year-round art cinema in the Piedmont Triad area.
31. See a Live Play
Call me old school, but I love live theater. Winston Salem is known for the arts and, therefore, has several theatres that produce shows, musicals, and plays throughout the year.
32. Attend an Art Class
Find your inner Picasso while taking an art class at Sawtooth School of Visual Arts. Sawtooth celebrated its 75th anniversary in 2020 and has become a well-known establishment in Winston-Salem. In addition to art classes, Sawtooth also has a gift shop with work provided by the art community, as well as art camps for kids.
Sawtooth offers more than just painting classes. From woodworking, clay sculpture, photography, wheel throwing, and more, Sawtooth can work with just about any media. Find a class on their website and sign up to learn a new skill!
| Cost | Pet Friendly |
| --- | --- |
| $$$-$$$$ | No |
33. Go to a Butterfly Farm
Yes, you heard me right! Less than 30 minutes away is All-A-Flutter Farm. This is a special place where you can surround yourself with beautiful butterflies. At this farm they raise thousands of Monarchs and sell them to businesses and individuals for all kinds of special occasions, such as weddings, graduation, and grand openings. 
This farm is a great place to take the kids and enjoy nature and God's masterpiece. Kids will love hand feeding the butterflies and taking spectacular photos. 
34. Enjoy a Good Restaurant
Some of our favorite restaurants are in downtown Winston-Salem. Parking can be a challenge, but if you plan it right or know where the parking decks are located, it's quite doable!
Special Mention:
The Porch Kitchen & Cantina: While this Tex Mex restaurant isn't necessarily downtown, it has some delicious food. It also has it's own parking lot (which means a lot to my hubby)!
Cost
Pet Friendly
$$-$$$
Depends
(Outdoor Patios – Yes)
35. Visit The Playground Golf & Sports Bar
The Playground may be newer to the Piedmont Triad area (est 2020), but it will not disappoint when it comes to entertainment. Located in Clemmons, NC, the Playground has golf simulators that can be booked, 20 beers and ciders, live music on certain days, and various entertainment throughout the week.
36. Walk around Reynolda Village
If you are looking for a unique and historic place to shop and walk around, check out Reynolda Village. Located on what was once the estate of the R.J. Reynolds family, the buildings were transformed from being a dairy barn, school, cattle shed, post office, and more to now shops and restaurants.
As you walk around this English Village, keep the history in mind and enjoy a step back in time!
37. Enjoy a Crêpe at Penny Path Café
I highly recommend Penny Path Café, especially if you are looking for a unique and delicious lunch or dessert place. It's also located in Reynolda Village, so it's a great place to stop if you're in the area.
Bonus: They are super dog friendly! Woody loves joining us on the outdoor patio. He usually charms the waiter/waitress with his puppy dog eyes and gets served his very own free puppy crêpe before we do!
BONUS

: Watch a Baseball Game at Truist Stadium
Home to the Winston-Salem Dash minor league baseball team, Truist Stadium is a great place to enjoy a game during baseball season. It is believed that The Dash was named after the dash symbol located between the city's name of Winston-Salem.
Cost
Pet Friendly
$
No
Exception: Bark At The Park!
Things To Do In Winston Salem FAQ's
Can you walk around Old Salem?
Yes! Old Salem is a great place to walk around and look at the 20 historic buildings that remain, as well as the beautiful gardens. You may have to pay an entrance fee if you are wanting to enter some of the historic buildings.
Is downtown Winston-Salem walkable?
Yes! Downtown Winston-Salem is walkable. Once you park the car, check out Trade Street and Liberty Street for some cool shopping, cafes, and unique finds.
How do I spend a day in Winston-Salem, NC?
38 Cheap Things To Do in Winston Salem
Old Salem
Reynolda House
Historic West End
Trade Street
BBQ
Historic Bethabara Park
Quarry Park
Mast General Store
Photograph the Shell Station
Walk the Art Trail
Check out the Coffee Pot
Brewery
Bailey Park
Tanglewood Park
Black Mountain Chocolate Factory
ROAR
SECCA
Salem Lake
Korner's Folly
Triad ECO Adventures
Divine Llama Vineyards
Childress Vineyards
Kaleideum
McKay's
Bowman Gray Racing Stadium
Blowing Rock
Hanging Rock
Mt. Airy
Wake Forest Football
A/perture Cinema
Live Play
Art Class
Butterfly Farm
Downtown Restaurant
The Playground Golf & Sports Bar
Reynolda Village
Penny Path Cafe
How far is Winston-Salem from the beach?
Myrtle Beach is:
213 miles (3h 41min) from Myrtle Beach
232 miles (3h 34min) from Wilmington
239 miles (3h 50min) from Oak Island