Are you looking for the best underseat bag?
Finding the right bag for your travels can be a challenge. When we first came across this bag, we fell in love with its versatility, organization, and compactness. That's why it has become our go to bag for weekend getaways and longer adventures!
P.S. Some of the links in this post are affiliate links.
Ciao Expandable Underseat Bag
Name: Ciao Expandable Underseat Bag
Price: $75.99 
Rating: 4.5 out of 5 stars 
Rating of Flyaway Couple: 5 out of 5 stars
Recommended? Yes! This has become our go to travel bag for all trips! I'll explain why we love it in more detail below!!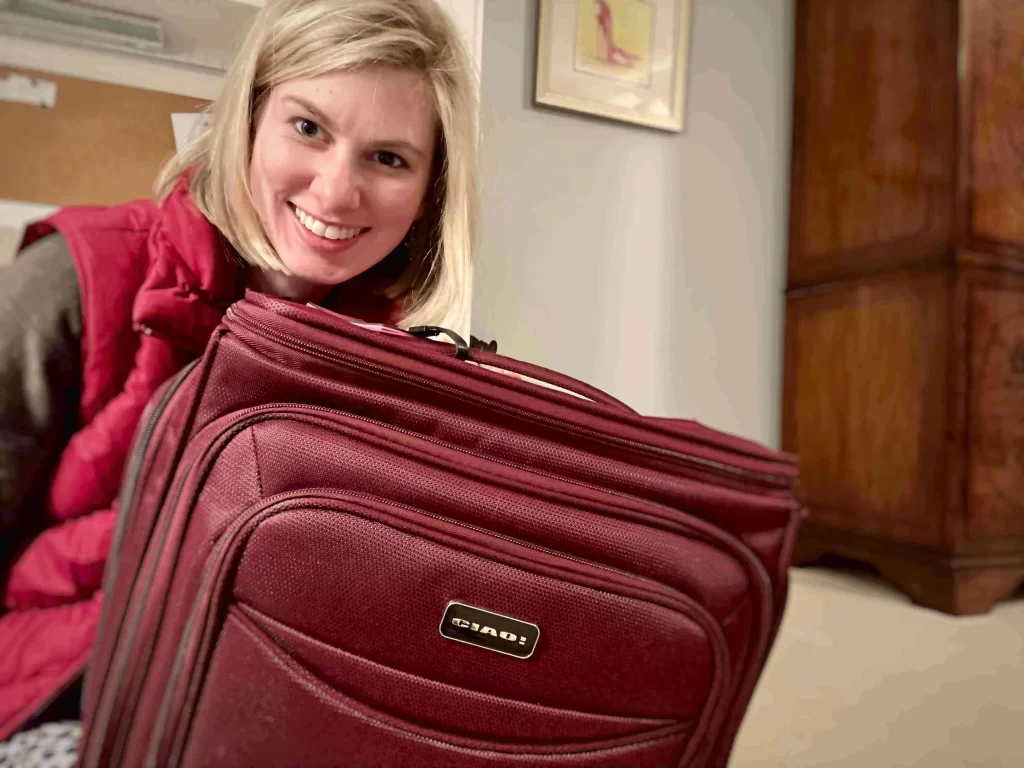 A Quick Review Of "The Best Underseat Bag"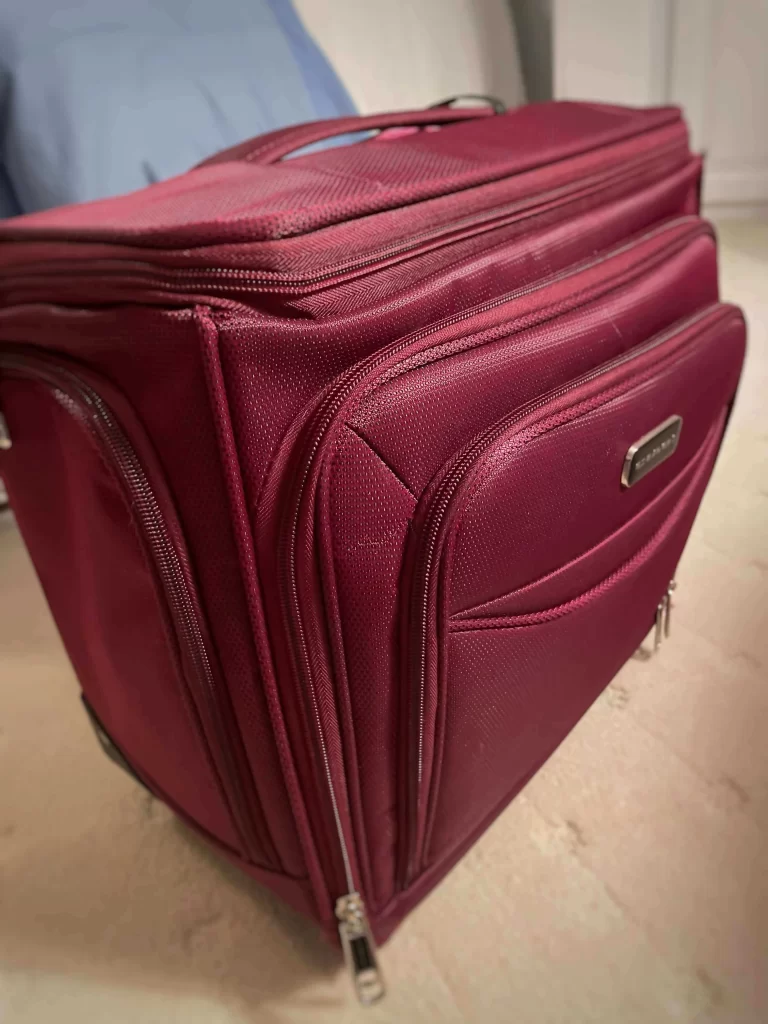 Two bags in one! This bag is interesting.  This bag looks like any other underseat bag; however, it also has an expandable component which makes it very versatile for all vacations. When not expanded, it measures 15 inches and is designed to fit underneath an airplane seat as a personal item. If you need more space, it can expand up to a 22 inch carry-on bag!
I love how this bag is expandable because it gives all of us shoppers extra space for those souvenirs! This bag is also water-resistant and very durable because it is made out of a Nylon material. Get stuck in a rain storm? No problem! The inside compartments will stay dry. 
This bag is also great at helping you stay organized! When using this bag as a carry-on suitcase, the two compartments are actually separate. I find this very helpful in keeping my stuff arranged and tidy. When it is not expanded, you also get three zippered external compartments! Pretty cool, right?
Because of the versatility of this bag and it's ability to be used as an underseat bag or carry-on suitcase, it is our go to bag for all trips! 
| We Like (Pros) | Could Be Improved (Cons) |
| --- | --- |
| Expandable Capacity – Transforms into a 22 inch carry-on suitcase | Only 2 color choices |
| Great for organization | Not as lightweight as other underseat bags |
| Wheel handle stores into a zippered compartment | |
| External storage compartments | |
| Limited 5 year warranty | |
Key Features
Fully expandable
Push button, locking retractable pull handle
Recessed in-line skate wheels (x2)
Durable 100% Nylon exterior and interior
Water resistant
Accessory pockets
Is This The Right Bag For You?
| This Bag Is Best For…. | Consider Other Travel Bags…. |
| --- | --- |
| Weekend travelers | Backpackers |
| Weeklong getaways | Campers |
| Business professionals | |
Alternative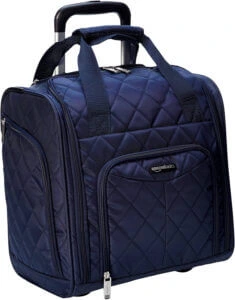 Amazon Basics Underseat Bag
This is a good alternative if you are looking for a basic under-seat bag that is reasonable in price.
Not expandable
Inexpensive

Multiple color choices

Slightly smaller at 14 inches
Lightweight Bag
Conclusion
Overall, the Ciao Expandable Underseat Bag delivers on its promise of providing a multi-purpose bag that is built for travel. We highly recommend this bag for your next adventure and believe that it is the best underseat bag!
Customer Reviews
"This is my second of these bags. The first one I bought at COSTCO last year and of course, it was way lower price. That was a gift for my son, who uses it constantly. Recently, I wanted another one for myself and of course COSTCO no longer carries it! Sooooo… I looked at other brands with similar style/capacities, but none seemed as well made. So, I bit the bullet and spent more money. Well worth it. The bag has so many hiding places and all zippered and glides effortlessly. I am planning on buying another one as a birthday gift! If you like to be organized, this is the bag for you!" – Marie
"I love the size of this. It fits under the seat on the airline and when I return home I have extra room for anything I buy. I just unzip it and it becomes a carry on that I can put in the over head bin. This is a great bag and I highly recommend it." – Bee
"This bag saves me tons of time at the airport. It fits on every plane that I have boarded. It's tough and I've been using the same bag for 2-3 years. The pockets on the sides are very handy." – Ralph (aka: my dad)
"This is a MUST HAVE for any mom who is traveling with a baby or toddler. It has tons of compartments for organizing. I'm able to bring blankets and other bulky stuff and use the expanded version of the bag. Then, when I get on the plane, I can take those blankets out and the bag fits under the seat in front of me in its smaller version. SO MUCH BETTER than having to stow carry on luggage overhead. 10/10 recommend!" -Lauren
"This is a great little suitcase. Liked it so much that we purchased another. First one I bought from Costco but they no longer carry it so bought this one on Amazon. It is very compact and very sturdy. Lots of pocket to store things. Love that is a roller suitcase as well. Highly recommend to everyone." -Ray
"We got one of these at Costco a while back and I wanted another one and so I searched here on Amazon and found it! I was so glad that I did…they are awesome! I love that you can pack a little and bring back A LOT 😉 — we were able to bring back like 12+ bottles of alcohol from Europe in these plus still have space for other things! they are pretty hardy." – Sarafina
FAQ's
Is it possible to lock the suitcase?

You will notice that there are 2 sets of zipper pairs on the front of the luggage that give you access to the main luggage storage area. You could purchase a small luggage lock and thread it through the zipper pairs. 
When in under the seat configuration does the handle retract all the way or does it still stick up?
The handle goes all the way down so it is flush with the top of the bag. It fits nicely under the seat of the plane or in the overhead bin of even a puddle jumper plane.
When collapsed down to under-seat size does the top portion take up a lot of space in the bottom?
It's a totally separate compartment, so it doesn't take up any room in the lower portion. It just folds down into itself.
Does the bag open from the top or is the top opening just the expansion?
Interested in other product favorites?