We have compiled a list of the BEST East Coast beaches. Cause let's be real – crowded beaches are NOT relaxing.
Agree?
These are some less-known beaches that are worth visiting for your next vacation.
If you want to escape the madness and seek a relaxing vacation, look no further because you've come to the right spot!
Want to know more?
Here is a list of some wonderful beaches on the East Coast. If you're ready to be a beach bum, read on…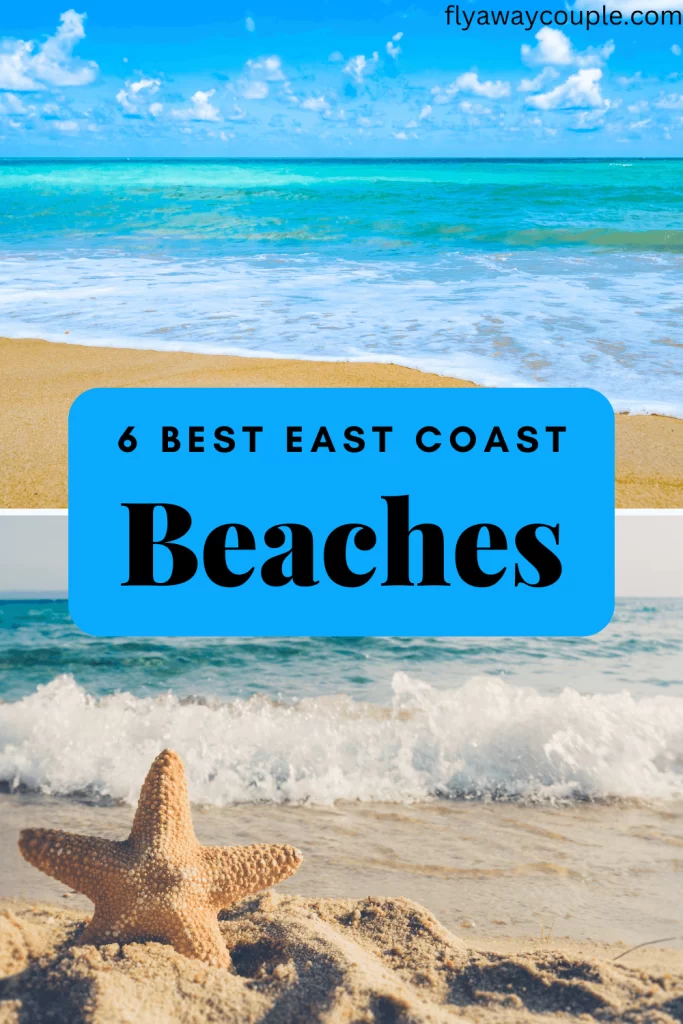 P.S. Some of the links in this post are affiliate links.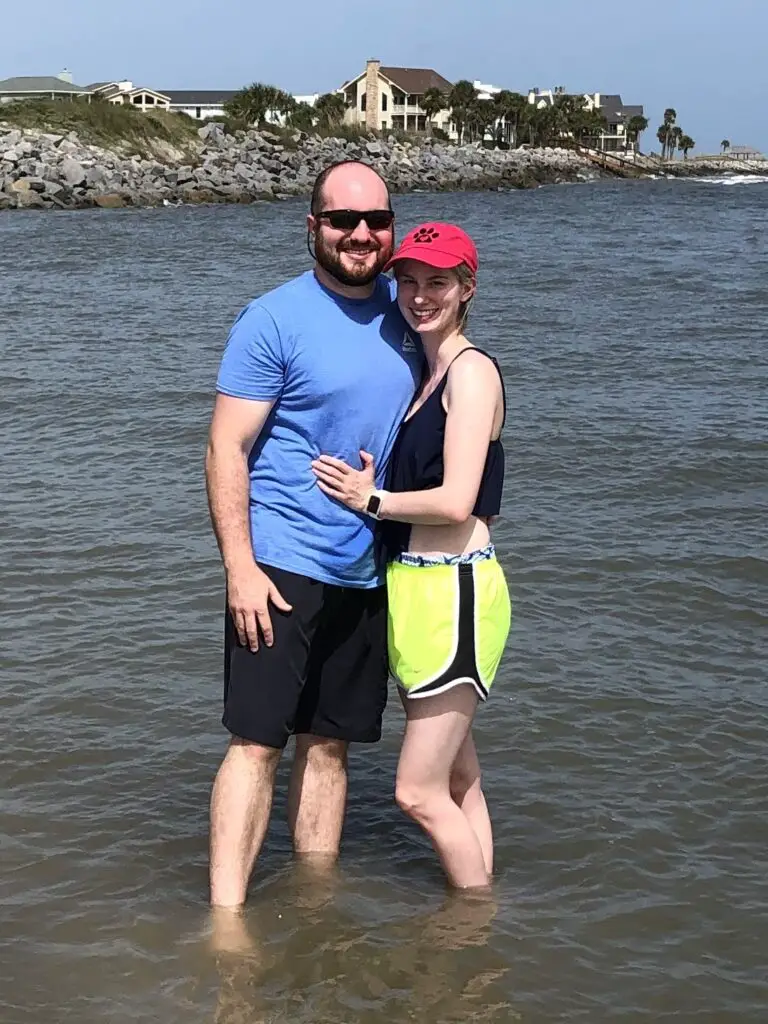 Best East Coast Beaches
Jekyll Island, Georgia
This beautiful island is less than 2 hours south of Savannah, GA. Jekyll Island is a state park, full of rich history, wildlife and amazing beaches. It is about 7 miles long and can be accessed via car. 
Accommodations
If you want to splurge and treat yourself to luxury, check out the Jekyll Island Club Resort for wonderful accommodations! 
The historic Island club is a beautiful destination for that next trip. The resort is centrally located and a perfect spot for a long weekend.
For dinner, head on over to The Wharf for great food and amazing water views. This restaurant is right next door to the Jekyll Island Club. After dinner you can walk along the bike path for a relaxing evening.
 Things To Do
The amount of things to do on Jekyll Island is endless!
One unique place to see is Driftwood Beach. The beach is strewn with driftwood and a great place for pictures!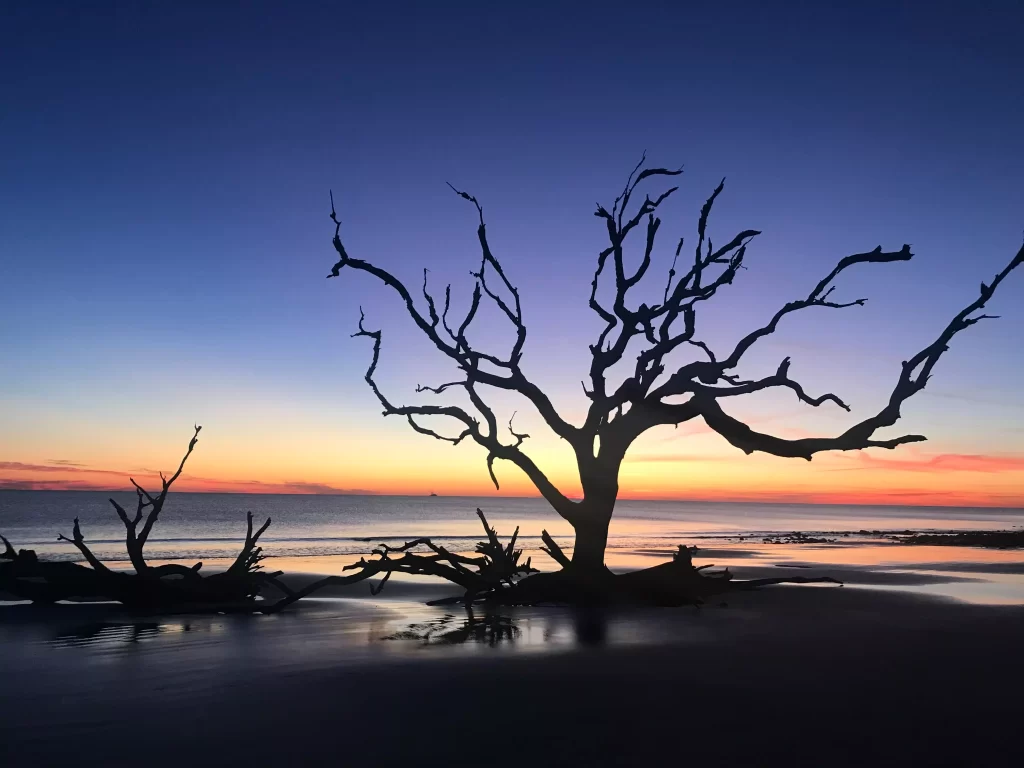 We recommend renting bicycles and exploring the island. There are bike paths along the ocean that make this bike ride a very special experience. 
While in the area, check out St. Simons Island for fantastic restaurants and shopping.
St. Simons is a Great Day Trip!
Southern Soul Barbecue is a local favorite.
Also on St Simons, we recommend taking a visit to historic Christ Church. Built-in 1808, this historic church is one of the oldest churches in Georgia. It is beautiful with the moss-draped oak trees around it.
If you have time, you can also swing by the historic and charming town of Brunswick. 
You won't be bored!
Fripp Island, South Carolina
Looking for a quiet and peaceful beach away from the crowds?
Fripp Island might be the perfect place for you. 
This island is a little over 2 hours south of Charleston, SC and can be accessed by car. It is also only 18 miles from historic Beaufort, SC (another adorable waterfront town).
Fripp Island is a gated resort community and a wildlife sanctuary. In order to get on the island you will need to have accommodations to get inside the gate. 
Who needs a car when you have a golf cart?
One of the fun things about Fripp Island is that most transportation on the island is done by golf-cart.
We highly recommend parking the car and renting a golf-cart.
The Deer are Loose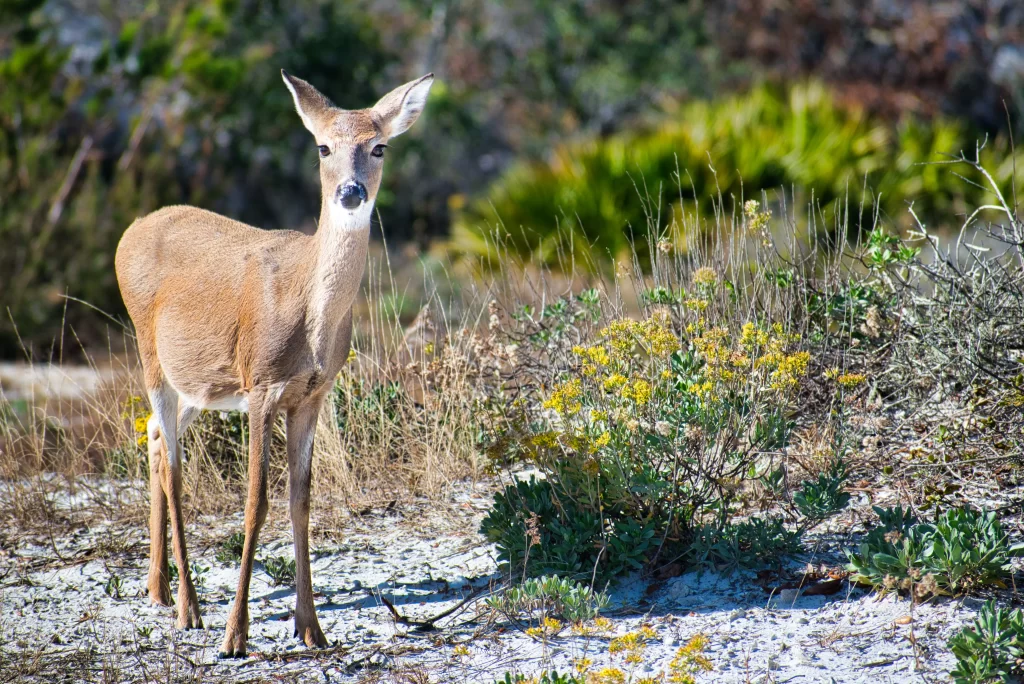 The island is home to hundreds of deer and other wildlife.
While exploring the island, you will see deer everywhere.
Reports indicate that there are between 400-600 deer on the island.
Be mindful of the alligators that are frequently in the roadside ponds and lagoons.
Things To Do
The island has 2 championship golf courses and 3.5 miles of beaches to relax and explore.
The beaches are quiet and most often the crowds are minimal. Get a beach chair, put your feet in the sand and grab a cold beverage because you won't want to leave. 
Plan Accordingly For Food
If you plan on going to Fripp Island during the offseason, plan accordingly because most places on the island will be closed. The offseason is a great time to visit if you want a peaceful place to relax.
We recommend going to the grocery store prior to getting on the island so that you can prepare some meals at your vacation rental. There are full-time residents on the island so you won't be totally secluded but your options for dining and a quick bite to eat will be limited. 
Please note: There is a convenience store on Fripp Island that has basic food items. There is a Publix and Food Lion approx 18 miles away in Beaufort, SC. Stock up before going onto the island!
Looking for more to do? Hunting Island State Park is a few miles from Fripp Island and the lighthouse is worth checking out. Take the tour to the top for exceptional views of the ocean! 
Sunset Beach, North Carolina
Looking for spectacular views?
Look no further than Sunset Beach. National Geographic listed Sunset Beach as one of the top 21 beaches in the world.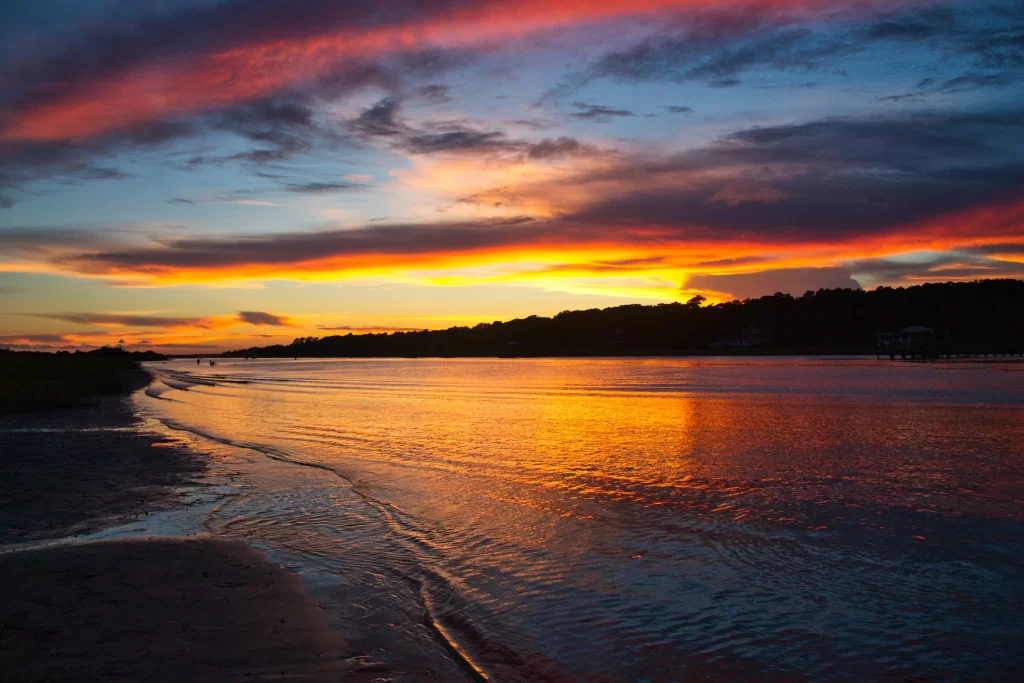 Located between Wilmington, NC and Myrtle Beach, SC, this beach is small in size but mighty in fun and enjoyment.
It provides the perfect mix of quiet, peaceful and relaxing getaway. Proximity to Wilmington and Myrtle beach make for easy day trips to area attractions. 
Once you get here you will quickly see why this place is what dreams are made of. The island is uniquely positioned to give you fantastic views for both sunrise and sunset.
Bring your camera because the pictures are epic.
Rent a bicycle and have fun exploring.
Dining Options
For a romantic dinner with waterfront views, head over to The Oyster Rock in Calabash for the freshest seafood around. No trip to the beach is complete without a seafood dinner. Reservations are recommended for dinner.
Searching for the best breakfast in town? We recommend Sarah's Kitchen. This "mom and pop" restaurant is guaranteed to please everyone in the family. We always recommend supporting local restaurants. 
Bird Island
If you are a nature lover, don't miss Bird Island. This almost 1,300 acre coastal reserve is full of wildlife. The island is made up of a salt marsh and lots of creeks. The sand dunes are almost 20 feet high in certain places. Bring your binoculars to catch a close up of all the birds. 
Block Island, Rhode Island
About 9 miles south off the coast of the mainland is where you will find this remarkable hidden gem.
This island is only accessed by ferry.
No need for a car – we recommend walking Old Harbor where the shops and restaurants are located.
There are 17 miles of pristine beaches. Mohegan Bluffs are 200 foot cliffs that offer incredible views of the Atlantic!
Things To Do
The island is home to over 30 miles of hiking trails and is the perfect destination for those that like an adventure. 
Lover of lighthouses?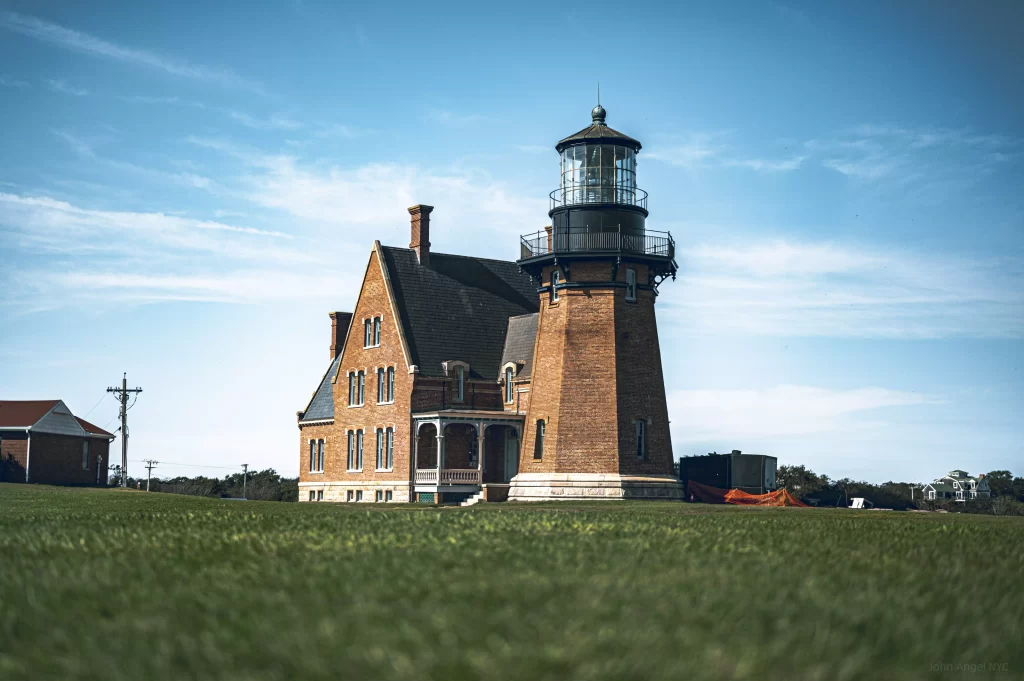 There are two lighthouses on the island worth checking out.
Southeast Lighthouse was built in 1875 and is still used today by the US Coast Guard as a navigational aid. On the opposite side of the island is North Lighthouse. Both lighthouses are beautiful in their own way!
The Food Scene
There are nearly 40 restaurants and bars on Block Island and something for everyone in the family.
Looking for something different besides a sit down restaurant?
Look no further than Southeast Light Delights located at Southeast Lighthouse. This food truck serves the best lobster rolls and lobster grilled cheese. Amazing. 
Accommodations
The 1661 Inn is where you need to stay. This place is beautiful. The views are phenomenal and the rooms are nicely decorated. This family owned Inn is the perfect place for your vacation. Welcome home. 
Bar Harbor, Maine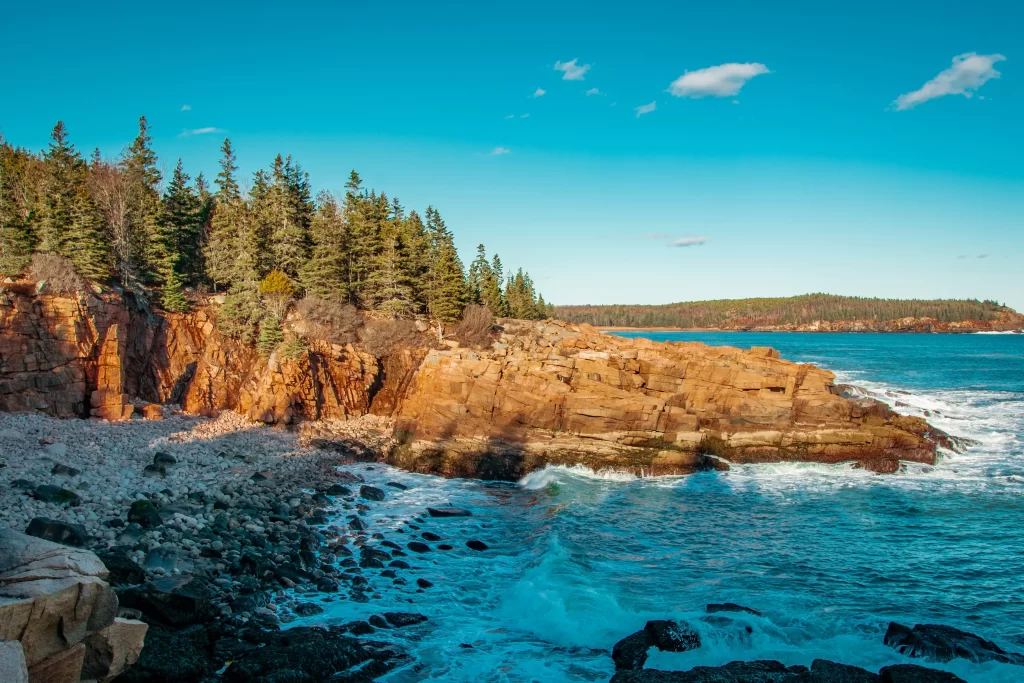 Bar Harbor is the gateway to Acadia National Park.
The scenery and views are breathtaking.
One of the easiest ways of getting to Bar Harbor is flying into Bangor International Airport, which is about an hour car ride away.
Another option is to fly into Boston's Logan Airport. 
Things To Do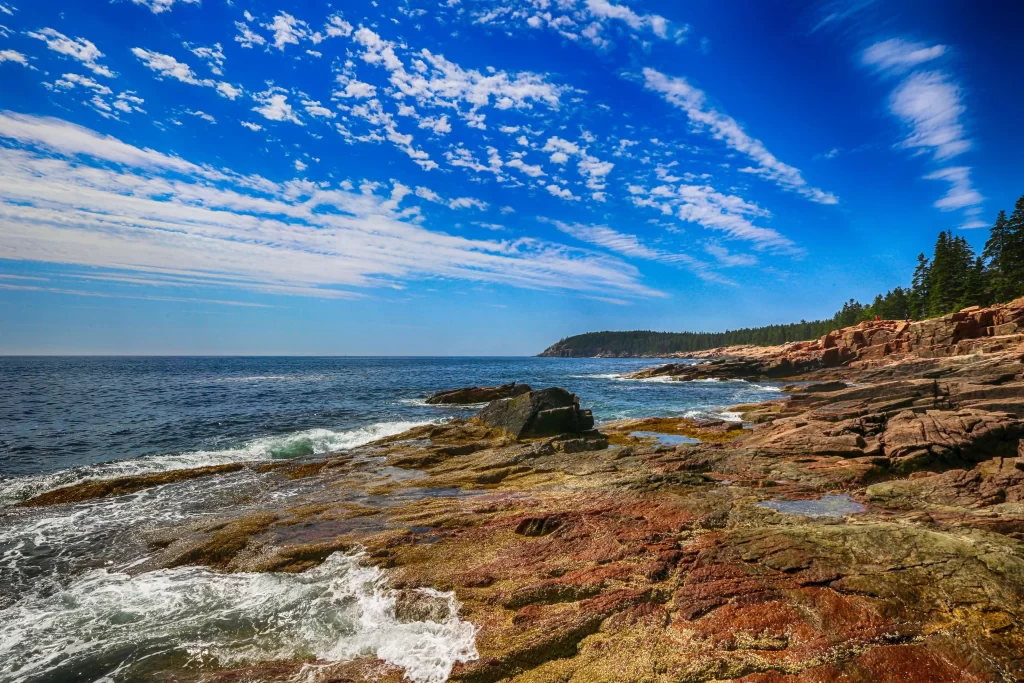 The list of things to do in Bar Harbor is endless.
You can go on boat tours, whale watches, play rounds of golf or explore and hike Acadia National Park (if you go to multiple National Parks consider buying the annual pass).
This is a town where you can easily spend a week. Tell your boss you will want an extra day off from work because you will want to spend more time here! 
Restaurant Ideas
Start the day off right and swing by Cafe This Way; they serve a delicious breakfast. Repeat visits are guaranteed.
For a romantic dinner with exceptional views and service, stop by the Reading Room Restaurant. Dress for the occasion and impress your significant other by taking him/her here. 
Accommodations
The Bayview Hotel is a great place to consider for your visit. The location is perfect and within walking distance to downtown (shuttle is also offered). The views of the water make you never want to leave your balcony. The hotel is located close to the entrance to Acadia National Park. The staff welcomes you with warm cookies. Who doesn't love a cookie? Sign me up. 
Best Time To Visit
Bar Harbor can get busy during pear summer months and with the cruise ships that frequent the area. To minimize crowds, try visiting in May or September. Avoid those peak months of June-August, but be prepared for cooler weather!
Amelia Island, Florida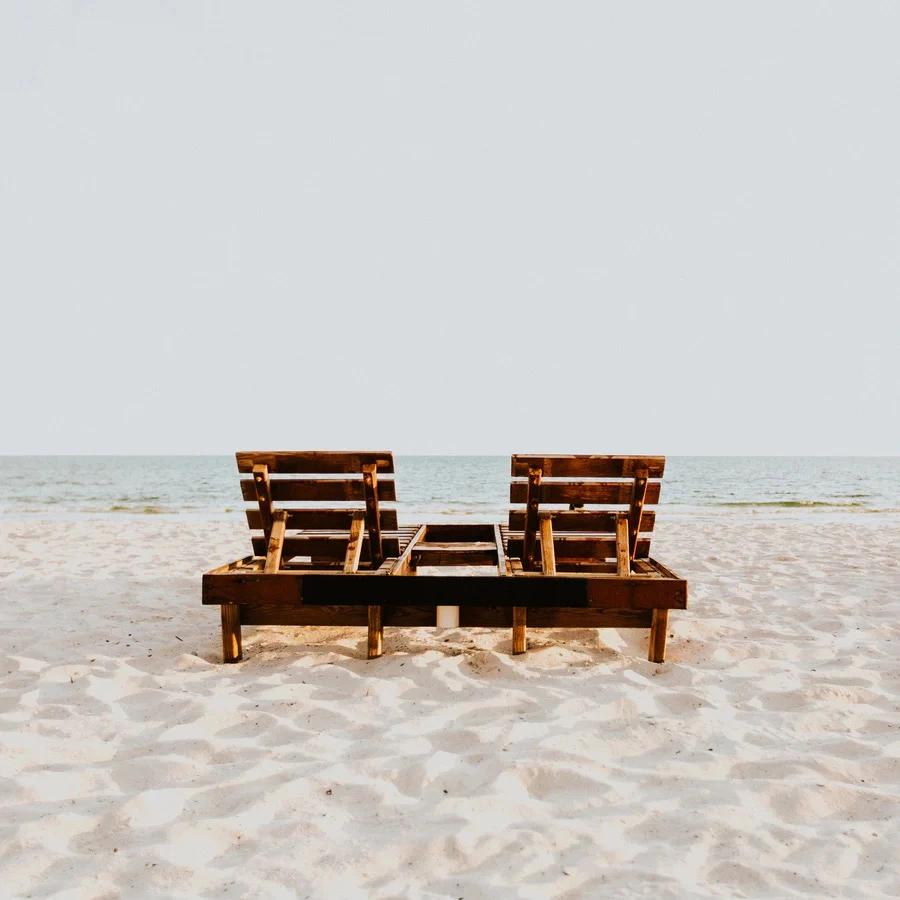 The Sunshine State is full of wonderful beaches.
There are 825 miles of sandy beaches, so it's easy to overlook some of the quiet places of paradise.
One beach often overlooked is Amelia Island.
This town just 30 miles north of Jacksonville has 13 miles of pristine beautiful beaches. 
Things To Do
For the history buffs, we recommend spending an afternoon exploring Fort Clinch. This 19th century fort has withstood the test of time and is remarkable. Kids and adults alike will enjoy seeing the cannons and views from this fort. 
Looking for an amazing spa for your next girls weekend?
We recommend The Ritz-Carlton Spa, Amelia Island. This hotel is great for any occasion, but the Spa is what will keep you coming back year after year. This 5 star hotel has impeccable oceanfront views.
The hotel also has multiple pools and a golf course. While you are there, make dinner reservations at SALT. This AAA Five Diamond Award restaurant is a great place to cap off an amazing trip to Amelia Island.
Dining Favorites
For great cheap eats, don't miss out on Aloha Bagel and Deli. This is a great island place for breakfast or lunch. Open 6:30-2PM everyday the vibes and customer service are top notch. You won't be disappointed and you will be supporting a local small business. 
We hope that you find this guide helpful in planning your next beach getaway! Get out and explore mother nature and all she has to offer!
Until next time!
Stay safe my fellow travelers xxx
Pin This Post!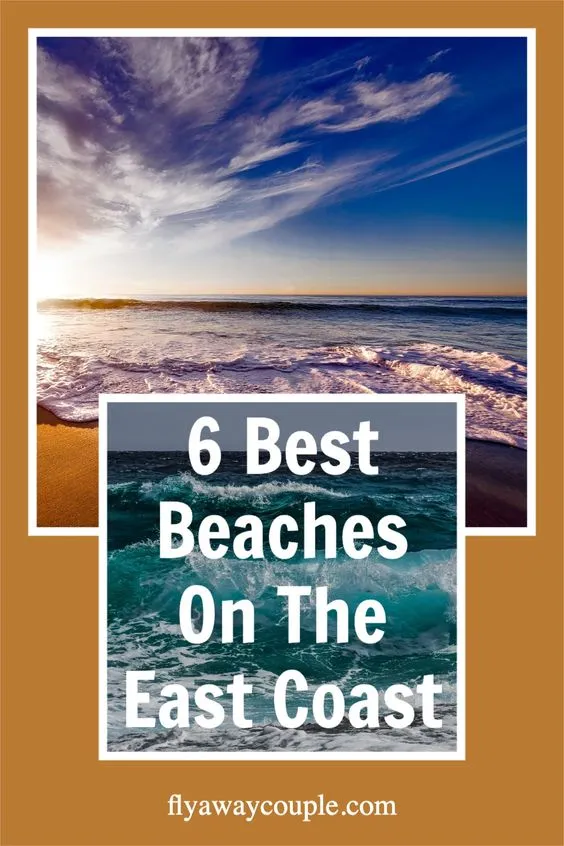 Best East Coast Beaches FAQ's
What is the most secluded beach on the east coast?
Block Island, Rhode Island is only accessed by ferry. No need for a car!
What is the least crowded beach?
Fripp Island, South Carolina is a gated resort community and a wildlife sanctuary. In order to get on the island you will need to have accommodations to get inside the gate. 
What is the prettiest beach on the East Coast?
National Geographic listed Sunset Beach, North Carolina as one of the top 21 beaches in the world.
What is the least crowded beach in Florida?
Amelia Island, Florida is just north of Jacksonville and is often overlooked as a quiet piece of paradise.
Looking For Other Trip Ideas??
And please do me a little favor and share this article with others, for there's a good chance that it will help them with their travels!