Ever questioned if flying with dogs was a possibility?
Yes, it is!
We have gathered all of the information you need to make an informed and educated decision regarding airline travel with your dog.
Some of the links may be affiliate links, which just means I get a small commission at no extra cost to you!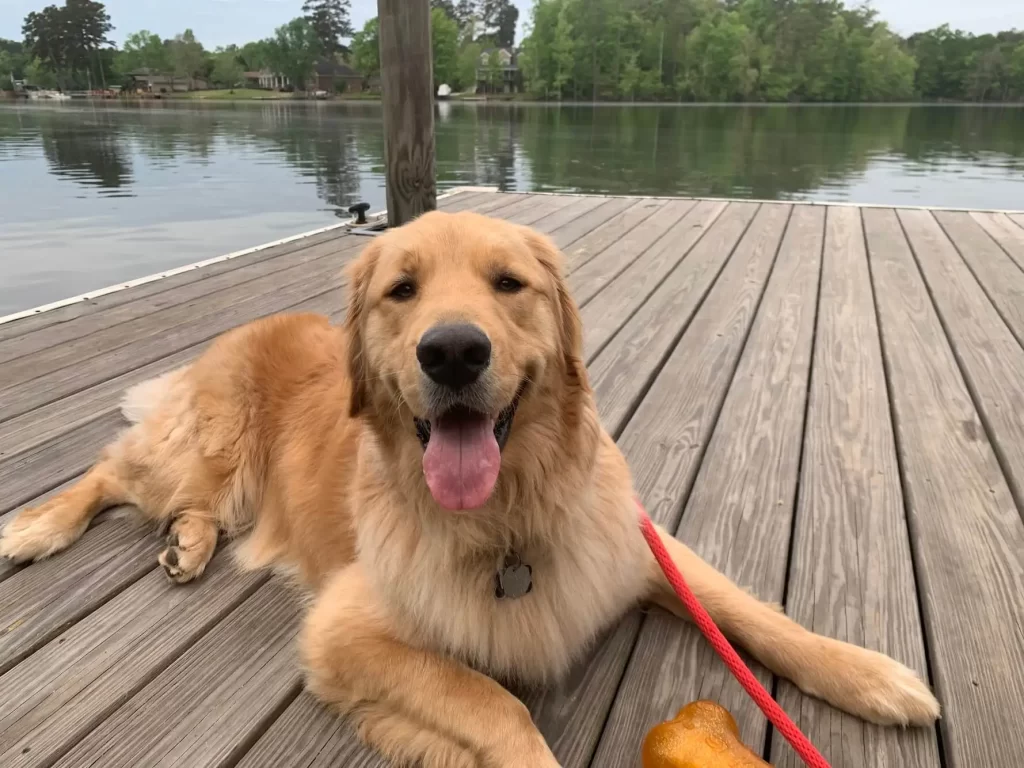 If you are reading this, you are a true dog lover and I commend you. As mentioned in other posts, we have a 75-pound Golden Retriever who loves car rides and I beg to take him everywhere. Unfortunately, there are some limitations to where dogs are allowed to go without the service dog title.
Flying has changed in the past ten years (not necessarily for the better). If you have flown recently, you've probably noticed less leg room and just generally tighter spaces. This is partly due to the fact that airlines squeeze in more seats to maximize profit. So basically, flying is not as enjoyable as it used to be! Side note: This is more evident when flying economy.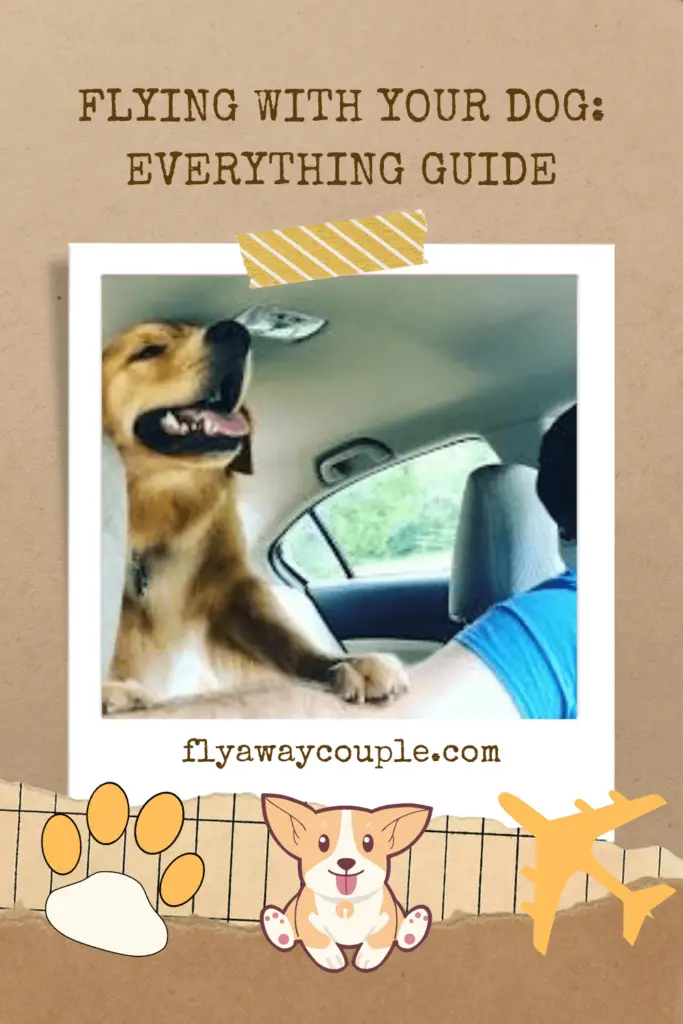 Flying With Dogs: THE Guide
Make a Pros/Cons List – Is flying with dogs worth it?
Before you get too far into planning your trip, think about if your dog has to go with you. If the answer is yes, do you have to fly?
If the answer is yes, keep on reading.
Think about it- flying is a stressful experience for many humans. It is definitely stressful for dogs who don't understand what is going on, where they are or when they will be reunited with family again. Stress can lead to medical complications, such as diarrhea and/or stomach ulcers. If you decide that your dog must fly, be prepared for the unexpected and provide calming solutions to help comfort your dog.
Brachycephalic pets, or pets with short heads and muzzles, like Pugs, Boxers, Bulldogs, or Persian cats, should not be taken on a flight as their short nasal passages leave them vulnerable to oxygen deprivation and stroke

The Humane Society of the U.S.
Carry-on vs. Checked vs. Cargo
There are three main ways for your dog to fly with you! Not all airlines offer each way of flying for your pet.
Carry-on: Unfortunately, not all dogs are allowed to fly in the cabin. This is reserved for small dogs (typically less than 20 pounds) and service dogs. When flying as a carry-on, your dog must be able to comfortably fit in one of the small, ventilated pet carriers that comply with the dimensions individualized to each airline. Each pet carrier must fit and remain underneath the airplane seat for the duration of the flight.
Checked: Larger dogs will have to resort to flying as checked baggage or as cargo. Not all airlines allow dogs to travel as checked baggage. Some airlines will provide a crate and others you will be responsible for providing. When your dog flies as checked baggage, he/she will be crated and weighed before being transported like the rest of the bags. This way of flying is typically more expensive than carry-on, but less expensive than cargo.
Cargo: Depending on the size of your dog and the airline, your larger pet may be required to fly as cargo.
Pet Carrier
Get the right pet carrier. Check the dimensions for the airline before the departure date. If the carrier exceeds the required dimensions, your pet will not be allowed to fly with you! When flying, no part of the animal is allowed to stick out of the carrier; therefore, wire carriers are not permitted. Here are some guidelines to help you pick the best pet carrier!
Enough Room: Your dog must have enough room to stand and lie down comfortably in his/her carrier.
Leak-proof floor: In the case of a potty accident, carriers should have a solid floor with an absorbent lining.
Handles: Make sure the carrier has some kind of handles so airline employees can safely pick up your pet without risk of injury.
Identification: Just like you do with your own luggage, make sure the pet carrier has updated ID info that includes home address and phone number.
Sizing: This can differ, so check your airline for sizing guidelines.
Ventilation: Make sure the carrier is well ventilated. The openings should make up 14% of the total wall space and 33% of the openings must be located in the top half.
Know The Cost
The cost of flying with your pet varies between the airlines. But as a general guideline, you can expect to pay roughly $75 to $125 each way for pets traveling as a carry-on inside of the cabin. For pets that are traveling as checked or in cargo, plan to spend around $200; however, prices can quickly increase to over $1,000 for very large dogs and for special circumstances.
Destination Restrictions
When flying with your pet, some destinations/airlines have restrictions on how the animal can be transported or what documentation is required for allowed entry. If you plan on traveling to/from the following (just to name a few), further research may be required into the rules for pet travel: Australia, New Zealand, Iceland, Jamaica, United Kingdom, South Africa, and Hawaii!
Know The Rules
Get familiar with the rules and regulations provided by your airline for pet travel. Some airlines restrict pets from traveling on flights that are longer than 12 hours. Many airlines have restrictions on where you can sit on the plane. Some airlines do not allow pets in first or business class, as well as the bulkhead seats and exit rows. Pets are also not allowed to travel with unaccompanied minors on any airline.
The U.S Department of Agriculture (USDA) requires that your pet be offered food and water within four hours before your check-in for the flight.
Consider Other Options
If you must travel with your pet, have you thought about other options of transportation? For some people, flying is the only option.
Train: Amtrak allows small dogs to travel by pet carrier. This is restricted to dogs 2o pounds or less, but this is far less expensive than flying. Reservations are $26 for pets.
PetAirways: A plane dedicated to transporting animals to their destination. You can rest assured they will be provided with water and taken care of while crated in the main cabin of the airplane.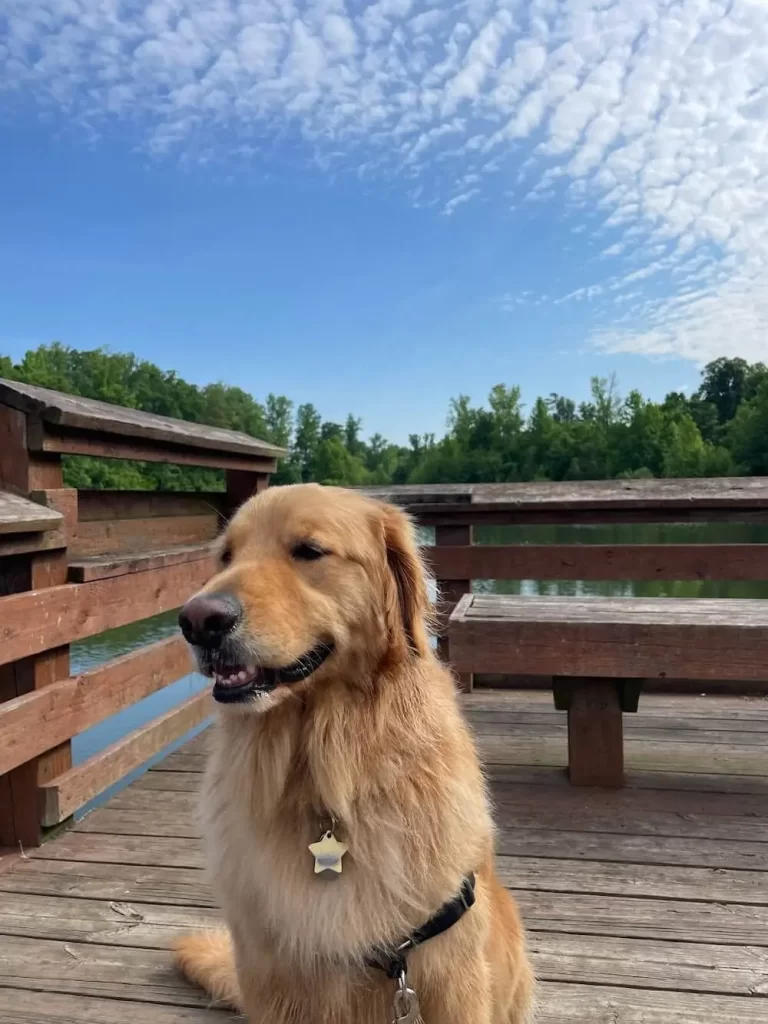 Consult With Your Veterinarian
Health Checks: Ensuring your dog is healthy before departure is very important. Check with your vet to ensure your dog is up to date on all required vaccinations. Let your veterinarian know about your travel plans far enough in advance, especially if traveling internationally. This way the vet can ensure your pet is healthy enough according to the requirements of your destination country.
The USDA requires that all dogs traveling by plane be at least 8 weeks old and fully weaned.
The USDA requires that all dogs crossing state borders have their rabies immunization and a valid health certificate issued by a licensed veterinarian within 30 days of travel (10 days if traveling by cargo)
Microchip: Not only is your dog's health important, but his/her safety should also be a priority. The risk of a lost pet increases with travel. Talk to your vet about microchipping. A microchip is a very small device that goes underneath your pet's skin that contains permanent identification. Make sure to register the microchip and update the information if ever moving residences.
Over 10 million dogs and cats are lost or stolen in the U.S. every year….. One in three pets will become lost at some point during their life

American Humane Society
Calming Aids: Is your dog easily stressed? Even if your dog handles change well, flying is a new experience for dogs and can cause undue stress. Your vet may be able to offer alternative options to minimize stress with travel.
Prepare For The Flight
If you have made it this far, you are probably considering flying with your dog. While flying can be a stressful experience, I feel it is important to take steps before the trip to help address this!
Crates and Carriers: There is a good chance your dog will be spending expended periods in the crate or carrier. Animals travel under less stress when they are accustomed to their crate or carrier. Focus on crate training and making that a safe place for your dog. If your dog will be in the pet carrier, start putting your dog into his/her carrier as often as possible for trips around town.
Beat Separation Anxiety: If your dog experience separation anxiety, enlist the help of a professional trainer before leaving on your trip. Your dog should be able to lie down in the crate by him/herself.
Noise Desensitization: Planes can be loud. Dogs have hearing that is 4x greater than humans so they will be more sensitive to noise. Try to get your dog used to the sounds before take off.
Study the airport: If you are carrying your dog onboard the flight, it may be helpful to study the airport terminals for animal relief stations.
Day Of The Flight
There is going to be a lot to do on the day of the flight. Ultimately, we want to make sure your dog is calm and relaxed. This is a new experience for your pet. Exercise has been found to reduce stress and help dogs rest. Before leaving for the airport, exercise your dog. You can even walk your dog before checking in at the airport, as well as when you arrive at your destination.
So as you can see, flying with your pet is doable. It just requires a lot of planning and preparation. Traveling with our pets is a great way to make memories and create new experiences.
Have you had any experience flying with dogs?
How do dogs pee on long flights?
Dogs will typically have to use an absorbent pad or towel that is placed in the crate or carrier. It is good practice to let your dog potty before checking in or at an animal relief station in the airport before boarding the plane.
How do I make my dogs comfortable on a plane?
Make sure your dog has plenty of room in the crate or carrier to easily change positions, lie down, and sit up as needed. For dogs who are easily stressed, there are calming aids that can be purchased over the counter (i.e. thunder shirt and calming collars). Talk to your veterinarian about other calming solutions, but do not sedate your dog for the flight.
What size dog can fly in cabin?
Flying in the cabin is typically reserved for small dogs that weigh 20 pounds or less. The exception to this would be service dogs.
Can you take your dog out of the carrier on the plane?
No. Dogs must remain in the carrier throughout the duration of the flight.
And please do me a little favor and share this article with others, for there's a good chance that it will help them with their travels!