Cruising is one of our favorite ways to see the world. The moment we stepped on board the Celebrity Apex, we knew there was something magical about this ship. As we embarked on our 12-night journey to explore the Mediterranean and the Holy Land, we took every opportunity to immerse ourselves in our beautiful and innovative temporary home. 
We want to share everything we learned, good and bad, about the newer addition to the Celebrity Edge Series. Let's dive into our Celebrity Apex review!
Some of the links may be affiliate links, which just means I get a small commission at no extra cost to you!
About Celebrity Apex
Celebrity Apex is the most beautiful ship we have seen. As part of the Celebrity Edge series, Celebrity Apex does a wonderful job at merging indoor and outdoor spaces, incorporating technology into everyday use, and creating inviting places to relax after a busy day of touring new cities.
Our Cruising History Recap
This was our first cruise with Celebrity Cruise Lines, but it was not our first cruise. We were hopeful the Apex lived up to its hype. Did it?
In the past, we have sailed with Princess, Royal Caribbean, and Holland America (in no particular order). We've cruised to the Caribbean and the Mediterranean together. We both have different interests when aboard the ship (Josh likes the food; I like the entertainment…) This should provide you with some raw and enlightening information on the Celebrity Apex because sometimes newer isn't always better!
Demographic Who Cruises On Celebrity Apex
We were probably the youngest aboard the Celebrity Apex. Considering we're in our 30s and vacationing during the off-season, I wouldn't expect to see many peeps our age. This cruise ship was also very multicultural. 
That being said, Celebrity Apex caters to an older population. Why? While Celebrity welcomes children and individuals of all ages, it is not the most family-focused cruise line. There are no climbing walls, zip lines, or adrenaline-pumping activities that would be exciting and entertaining to young adults. 
There Is A Kids Program
There is a kids program that Celebrity provides called Camp at Sea Kids Club.This is the only fully customizable kids program in the industry and is available for kids and teens ages 3-17. Celebrity also takes it a step further and offers programs for children who have Autism and sensory-related issues!
The Accommodations On Celebrity Apex
With all the hype about the Celebrity Edge series, we were looking forward to seeing the accommodations firsthand. We chose to save some money and stay in an interior room. My parents and grandparents stayed in a room with a veranda so we also got to experience the new (& "improved") infinite balconies.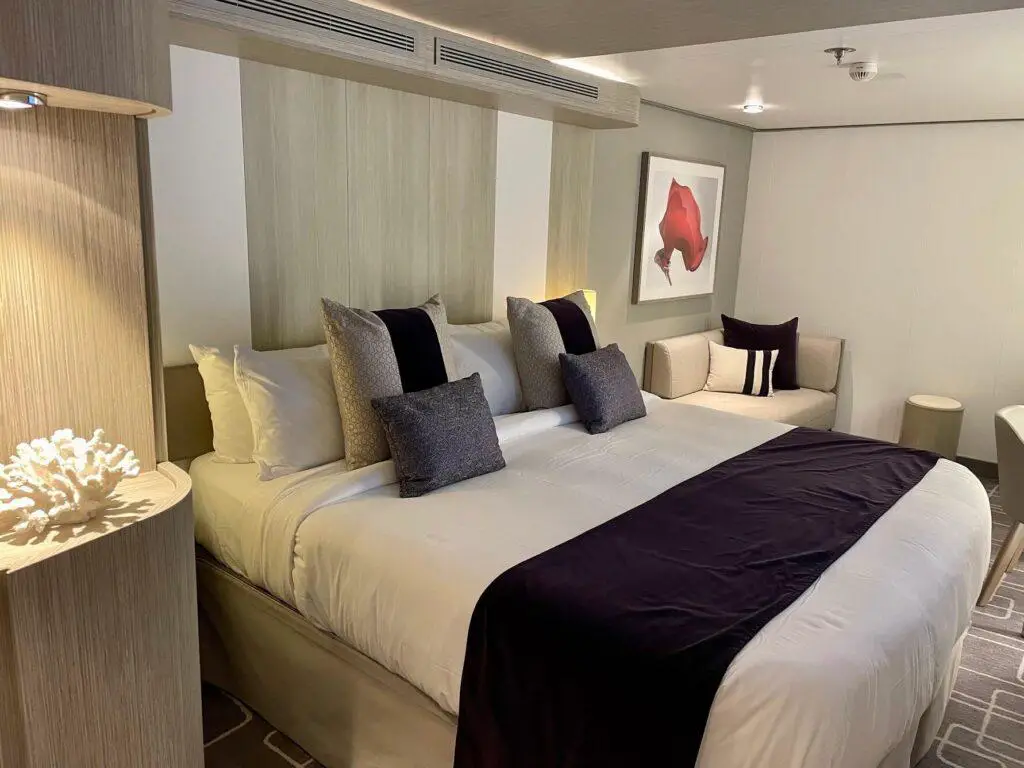 Interior Room
At 181-202 Sq. ft, Celebrity Apex has designed interior staterooms with functionality in mind. There were several small hidden shelves, a safe for personal belongings, and all the necessary amenities (shampoo, conditioner, lotion, body wash, hair dryer). Initially, I had a hard time finding a place for all of our belongings, but, with creativity, this can be accomplished.
Veranda Room
My parents and grandparents stayed in these staterooms during our trip to the Holy Land. The room setup was identical to the Interior room, with the exception of the veranda/ balcony. On previous trips, a favorite pastime was having family gather together on the balcony for breakfast. The veranda on the Celebrity Apex is an extension of the room and is perfect for two people to sit; however, it is not a gathering place for a group of people.
Other Rooms
Celebrity Apex has a few other accommodation categories that include the Concierge Class, AquaClass, and the Retreat.
The Food And Dining Venues On Celebrity Apex
Celebrity Apex offers 29 distinct food and beverage experiences on board. 
Bars, Cafes, & Lounges
There is no shortage of places to relax with a drink or to grab some brew while heading to the next activity on board. For great views, Sunset Bar quickly became one of our favorite places. The Sunset Bar is on the back of the ship with comfortable seating, perfect for watching as the Celebrity Apex pulls out of port. Another favorite was the Café al Bacio, not necessarily for the beverages, but for the complimentary sweet treats.
Specialty Restaurants
These restaurants are becoming more and more popular on cruise ships. We have no opinion on these because we chose to refrain from partaking this time. An additional fee is required in order to dine at these restaurants, with prices ranging from $35-$65/pp. Some of the specialty restaurants include a steakhouse, french-inspired restaurant, and seafood.
Complimentary Dining Venues
The Oceanview Café is the buffet onboard and is a popular dining destination. Believe it or not, I'm not a big fan of buffets; however, found the majority of the food to be tasty at the Oceanview Café. The Mast Grill offers a selection of hamburgers, turkey burgers, and cheeseburgers. This was our first stop when embarking, and we did not return after a mediocre-tasting burger. For a unique and airy atmosphere, enjoy a bite to eat at Eden Café (not Eden Restaurant). This restaurant was only open on sea days.
Main Dining
The Celebrity Apex does not focus on fixed dining, so eating in all four dining rooms and experiencing the different dining atmospheres is encouraged. The menus are primarily the same with the exception of the "exclusive" food items for each restaurant. Our favorite dining atmosphere was the restaurant Tuscan, an Italian-inspired theme. Our best meal was at the American-inspired restaurant Cosmopolitan, where we enjoyed the (not so spicy) Cajun-spiced fried Chicken, Caesar Salad, and Bananas Foster. 
Exclusive Restaurants
For AquaClass members, check out the restaurant Blu. The highest-rated restaurant on the ship is Luminae, an exclusive restaurant for members of The Retreat.
Food & Dining: The Good, The Bad, and The Ugly
Scoops: We loved the complimentary ice cream located outside of the buffet. The available toppings and ice cream selection was an added bonus!
Sinks in Buffet: With COVID-19 and flu season approaching, we loved the addition of the sinks upon entering the buffet. There was also a hand sanitizer dispenser and pleasant cruise staff encouraging good hygiene.
Desserts: Celebrity Apex knows how to make a good dessert. My favorite grab and go dessert was the chocolate brownie at Café al Bacio.
Portion sizes: It was not uncommon to have a very small serving on a standard size dinner plate. Celebrity took the definition of small servings to another level!
Food presentation: Every cruise we have been on have had beautiful and appetizing food arrangements. This gradually got a little better as the trip progressed.
Food: We are no foodie or food connoisseurs, but we do know what tastes good. We learned to avoid the soups and K.I.S.S. (aka keep it simple stupid).
Spaces And Venues Aboard The Celebrity Apex
Celebrity has done a fantastic job of designing the Apex with many different areas to relax around the ship. With a capacity of 2,910 passengers, the design of this ship encourages people to spread out and chill in one of the many intriguing spaces. On our trip, the ship was at 70% capacity and we never felt cluttered (except occasionally at the buffet when food was involved!)
Some of our favorite places to relax on the Celebrity Apex:
Eden
If you are looking for a touch of nature, you must check out Eden! Did you know that some of the greenery is not artificial? Beautiful and carefully placed moss decorates the walls of Eden, making you feel like you've stepped into a tropical forest. Located at the back of the ship, Eden has a very relaxed atmosphere and even has some swinging chairs that would be perfect for a nap or reading a book.
Rooftop Garden
When a daytime outdoor movie or Zumba class is not occurring, the rooftop garden is a great place for zen. It has several outdoor sofas throughout the garden that is perfect for catching some "Z's" while getting caught up on your vitamin D levels.
Grand Plaza
The middle of all the action! If you are looking for quiet, you may not find it at the Grand Plaza. If you want to people-watch or listen to music, hanging out around the Grand Plaza is the perfect place! My favorite thing was to grab some hot mint tea and a brownie from the Cafe al Bacio while I did some people-watching at the Grand Plaza (often accompanied by music.) Can you say perfect day?!
Magic Carpet
Nearing the end of our cruise, I discovered the Magic Carpet. I thoroughly enjoyed relaxing while overlooking the ocean. The one day I chose to sit out on the Magic Carpet, it started to rain and we pulled away from the port of Cyprus. Quite magical!
The Entertainment On Celebrity Apex
I give props to the Cruise Director because Celebrity Apex has done a great job in providing a variety of entertainment options. While sailing with Celebrity, we enjoyed stunning performances from Charity Lockhart, Claire Maiden, and The MacDonald Brothers, all musicians with different backgrounds and specialties.
For anyone who was more interested in acrobatics, Celebrity Apex staff put on some thrilling production shows that included aerial acrobatics, contortionists, and other surprising stunts.
One of our favorite acts was by Ralph Harris, a comedian hailing out of Philadelphia, Pennsylvania.
Technology Advances On Celebrity Apex
While sailing aboard the Celebrity Apex, there was a large focus on using the Celebrity app.
Celebrity App
We did not need to purchase a WiFi package to access the Celebrity app when on board the ship. This app provided information about the latest events and account information. We could also use it to control the temperature, lights, and TV in our stateroom!
We found the Celebrity app helpful but also found some ways the implementation could be improved.
Celebrity App: The Good, The Bad, and The Ugly
Convenience: Having everything in one place is convenient. Did I mention that the Celebrity App can also be used as your stateroom key?!
Ease of Use for Older Adults: The majority of individuals sailing with us were older and technology can be difficult. The Celebrity App should be in place to make lives easier. Unfortunately, I noticed moments when it made things more complicated and confusing.
Consistency: The Celebrity App was intended to be the most up-to-date information. There were a few times when the Celebrity App and the paper "Celebrity Today" did not match. Sometimes the App was accurate; other times the paper was accurate.
Handicap Accessibility On Celebrity Apex
As a physical therapist, I always am curious about accessibility for everyone. On this trip, I noticed several different kinds of assistive and mobility devices. I began to wonder, is there anywhere a person is unable to access depending on mobility challenges?
Good news! Celebrity has designed this ship to strategically place ramps that will allow wheelchairs and other mobility devices access to numerous areas of the ship. As I did some more research, I noticed that Celebrity designed this ship with accessibility in mind. There are 24 accessible staterooms that have wider doors, grab bars, roll-in showers, lower vanities, and raised toilets. In addition to the physically challenged, Celebrity has also made accommodations for the hearing and visually impaired. I did not find a place that was inaccessible while on the ship. I would love, however, to hear if you know of somewhere I overlooked!
Things We Missed In A Ship
Port Information: We missed getting information about the port on the overhead speakers. There was minimal information about each stop on the Celebrity App.
Movie Under The Stars: There is a great space for outdoor movies. They offered outdoor movies during the day, but not at night. This may have been the time of year we were sailing. 
Fixed Dining: For many, this is debatable. We actually enjoy the fixed dining times because of the relationship built with the wait staff.
Reasonable Laundry Services: We planned on doing laundry, but quickly changed our minds when we saw the price tag. The charge is per item, not per bag, as on previous cruises we have taken. Be prepared!

There was a 24 hour period where a "Laundry Bag Challenge" was offered. This included stuffing the provided laundry bag with everything possible for a flat rate of $49.95. Challenge accepted, right?! Josh and I filled our bag and placed it by our door by the designated time of 9pm (technically, we rushed to the finish line and had it filled by 8:58pm)! The laundry bag challenge directions did not indicate that we had to contact our cabin steward at the completion. At our disappointment (at no fault of our cabin steward), Celebrity would not honor the $49.95 rate since it was picked up after 9pm.

Old Balcony: The new infinite veranda is a unique concept; however, we miss the roomie balconies.
Things We Really Enjoyed
Friendly Staff: Everyone we have spoken with agrees that Celebrity Apex has one of the friendliest and most helpful staff onboard. My mom lost the stone to her ring she purchased in Kusadaski, Turkey. Her cabin steward searched everywhere, going out of his way, and actually FOUND it a few days later!!
Ice Cream Station: Do you love ice cream as much as we do?! Celebrity Apex has its own ice cream station called Scoops. The best part is that it's completely FREE. (Exception: Pistachio Gelato has a minimal cost)

Entertainment

: We may not brag about the food onboard Celebrity Apex, but the entertainment was great. From musicians, comedians, and production performances, there was always something for all ages.
Ship Design: Unquestionably, this is a beautiful ship. It is well laid out and easy to navigate.
Our Recommendations
Costco Travel: Book through Costco. With Costco, we got basic internet, a classic beverage package, and onboard credit as perks. We also got cash back to use at Costco at the conclusion of our trip! Highly recommend!
So you may be wondering: How is the Celebrity Apex a "budget-friendly" cruise? We were able to make it more reasonable by booking with Costco and choosing the least expensive interior stateroom. We still had an awesome travel experience!
Summary
Overall, we enjoyed our time on the Celebrity Apex and would sail on it again. Look no further for great entertainment, the best theater on the seas, and innovative technology. As with anything, there is room for improvement, but it's a beautiful ship with the best staff you will ever meet!
Celebrity Apex FAQ's
Is Celebrity Apex good for kids?
Celebrity welcomes individuals of all ages on board. Celebrity Apex offers a kids program called Camp at Sea Kids Club. The program is available for kids and teens ages 3-17. If you are interested in a cruise that offers fun activities, such as water slides and and rock climbing adventures, consider another cruise line as these will not be found on Celebrity. Overall, Celebrity does cater to a slightly older demographic.
Does Celebrity Apex have a buffet?
Yes, Celebrity Apex has a buffet called the Oceanview Cafe that is located on the 14th floor. It is available to all guests and is not an additional cost. The buffet is open for all meals and provides a variety of food options.
What class is Celebrity Apex?
Celebrity Apex is part of the Celebrity Edge series. The Celebrity Apex was first launched on May 17, 2019.
Does the Celebrity Apex have a casino?
Yes, Celebrity Apex does have a casino.
Does Celebrity Apex have regular balconies?
As part of the Celebrity Edge class, Celebrity Apex has infinite balconies. These balconies are designed to enlarge the stateroom when opened. The infinite balconies make the stateroom and balcony feel as one big room.